Employment Services
---

---
The CLSM Employment Team advances the training and employment options within their communities for adults with developmental disabilities. Employment services are market driven and encompass planning, assessment, training and skill development leading to competitive employment with natural supports.
Our Job Coaches support individuals in obtaining employment and provide one-to-one assistance while the individual learns the tasks required on the job site. Supports are time limited and will be determined with the employer and the individual's support network.
We provide quality training and support advancement opportunities throughout your employment journey. We do this by providing:
1:1 coaching
Group training
Skill building
On the job training
Acting as a spokes person / advocate on your behalf
This is all done through face to face interactions, virtual meetings, online job searches and job fair connectivity.
Our goal is to help you find competitive employment with natural supports. In order to achieve this we need to ensure that employers are aware we are there for them too:
We will bridge the gaps between yourself and your employer
We will create step-by-step task analysis based on job requirements
We will provide pictographs when necessary to help you do your job independently
We will come in and do some job carving to improve your overall productivity
Employment supports will follow you through your employment career and are managed on a per individual basis. These supports will be determined by the employer and the employees support network.
---
Employment services are offered in the following municipalities:
Bracebrige
Gravenhurst
Severn Bridge
Mactier
Port Severn
Honey Harbour
---
Fleming College, Our New Employment SSM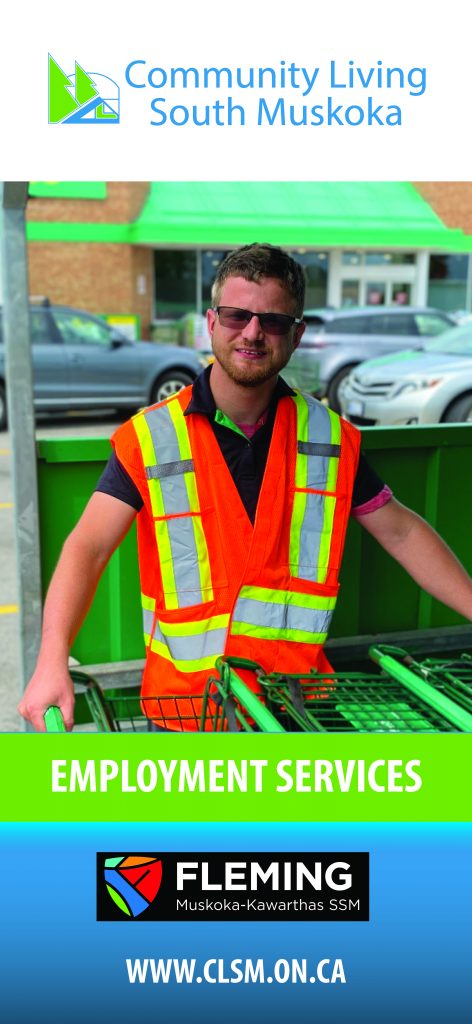 Fleming College recently launched a prototype program implemented by the Ontario Government with the aim to help streamline employment services across the province. Fleming is now the Service System Manager (SSM) for employment services in Muskoka-Kawarthas, and alongside employment service providers like Community Living, they are tasked with addressing current labour market needs for all jobseekers in their service area. The area they oversee includes the City of Kawartha Lakes, District of Muskoka, Haliburton County, Northumberland County, and Peterborough County.
"We are pleased that the Ontario Government chose Fleming College to lead its new SSM model, and stand ready to address current labour market needs and advance the future of employment services. Fleming's expertise in delivering high quality skills training, paired with the experience of our local employment agencies, will result in solutions for job seekers including youth and older workers, Indigenous peoples and newcomers. We will also help employers find workers equipped with the right skills." – Maureen Adamson, President, Fleming College (2021, flemingcollege.ca).
Community Living South Muskoka is working in partnership with the Muskoka-Kawarthas SSM to match potential employees and employers to create a more inclusive and sustainable employment market, remove barriers and improve employment longevity. CLSM is excited to develop our employment services alongside Fleming College.
Please contact us for more information or to make a direct referral.

---
The Hiring Chain, Performed By Sting
---
Hiring People for Their Abilities