Family Day Snowshoeing!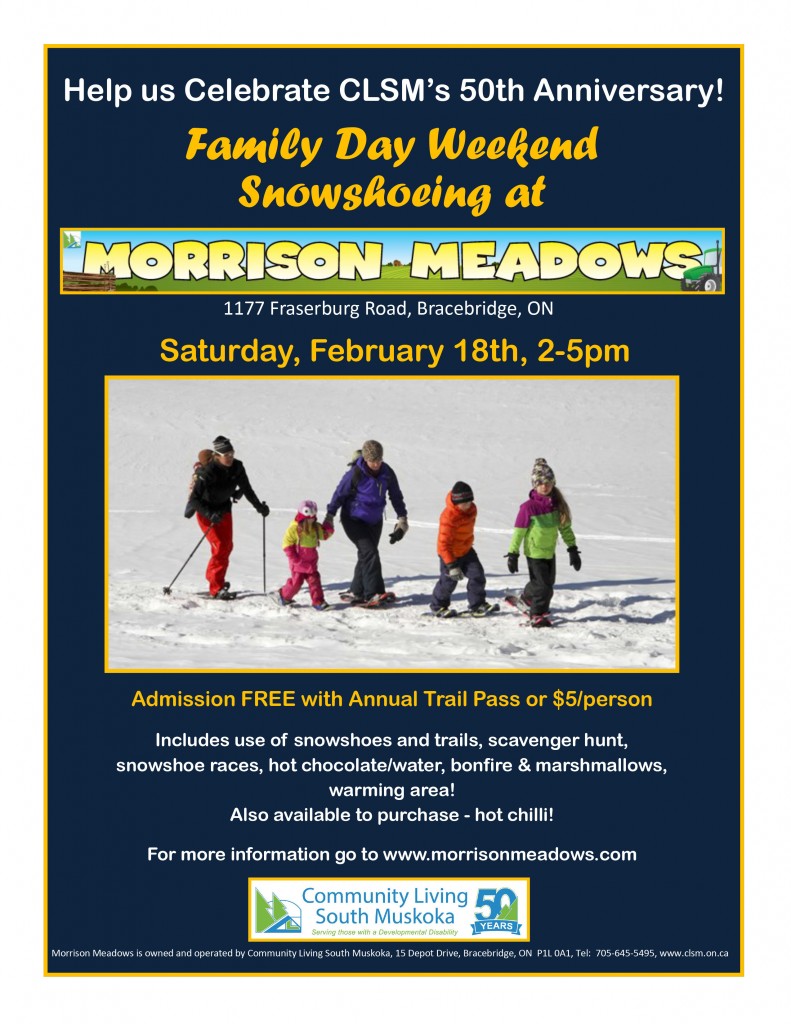 Come Celebrate with us at our 50th Anniversary Party!

Community Living South Muskoka – Standing Up for Your Ability to Choose
Career Opportunities
http://www.clsm.on.ca/?job_listing=chief-financial-officer
Part-time Residential Support Professional
A Message from your Board Chair and CEO
First, on behalf of the staff and Board, we would like to wish a Merry Christmas to all the people and families that we serve.  For those that were able to join us at the Boston Pizza Booster Night you saw the spirit and joy that our Idols brought to the party and the season.  Thank you all for the special contributions that you brought to the evening.
Not only did we enjoy the entertainment, but the community once again demonstrated their generosity. The Boston Pizza Booster night is an example of another fundraising event, with friends and family enjoying wonderful entertainment and food. We raised over $2,000, so thank you to all involved.  A special thank you goes to the staff who gave of their talents and time to make this such a special event.
We would like to highlight the dedication and hard work of our Community Participation Support teams over this past year. They have been
designing  and creating a plan for a new service delivery model to build an inclusive community as part of our strategic goal of being a Person
Centred agency. The Teams wanted to ensure that we provided individual community based supports to meet goals and ensure personal satisfaction. At the same time, we wanted to ensure that we had skilled staff in our accessible building for respite supports when you need them. The new design began in October, and the time and effort shows with every person involved. There is an article later in this newsletter, celebrations happening on our Facebook page, and a special newsletter coming out in the New Year.
Speaking of excellent and Valued, Skilled Staff, we were pleased to celebrate some of the staff accomplishments this year at our Annual General Meeting and Staff Awards night. The turnout this year was the best ever, and the meeting was a perfect opportunity to reflect on the agencies strategic goals and accomplishments.  We would like to extend our congratulations to all of the award recipients, Kathleen White for the Barb Luckasavitch Memorial scholarship, core competency award winners, and new this year, our Employer of the Year, Dockside Magazine.
This year the agency has been exploring new and creative ways to support people as part of our goal of being  A Leader in Innovation. We were pleased to create a new option for 'live' which we are calling 'Friendly Neighbour'.  So far, we utilized our very scarce internal agency resources to support two people and are still going through a few growing pains.
The agency was also chosen to be an early adopter of the Provincial DSCIS Service Connections project, and we would like to thank all the staff for your help to complete the necessary data in a short period of time. This is just another example of how CLSM is considered A Highly Valued Community Organization.
IN 2017 COMMUNITY LIVING SOUTH MUSKOKA WILL BE CELBRATING 50 YEARS OF SERVICE TO THE COMMUNITY.  WATCH FOR THE MANY SPECIAL EVENTS THAT WILL HELP OUR COMMUNITIES BETTER UNDERSTAND WHAT WE DO AND WHY WE DO IT.
We would like to take this opportunity to extend our Best Wishes to you and your families for a Happy Holidays!
Gord Haugh, Board Chair
Krista Haiduk-Collier, Chief Executive Officer
Excerpt from CLSM December 2016 newsletter.  To read the full newsletter, click here:  CLSM December 2016 Newsletter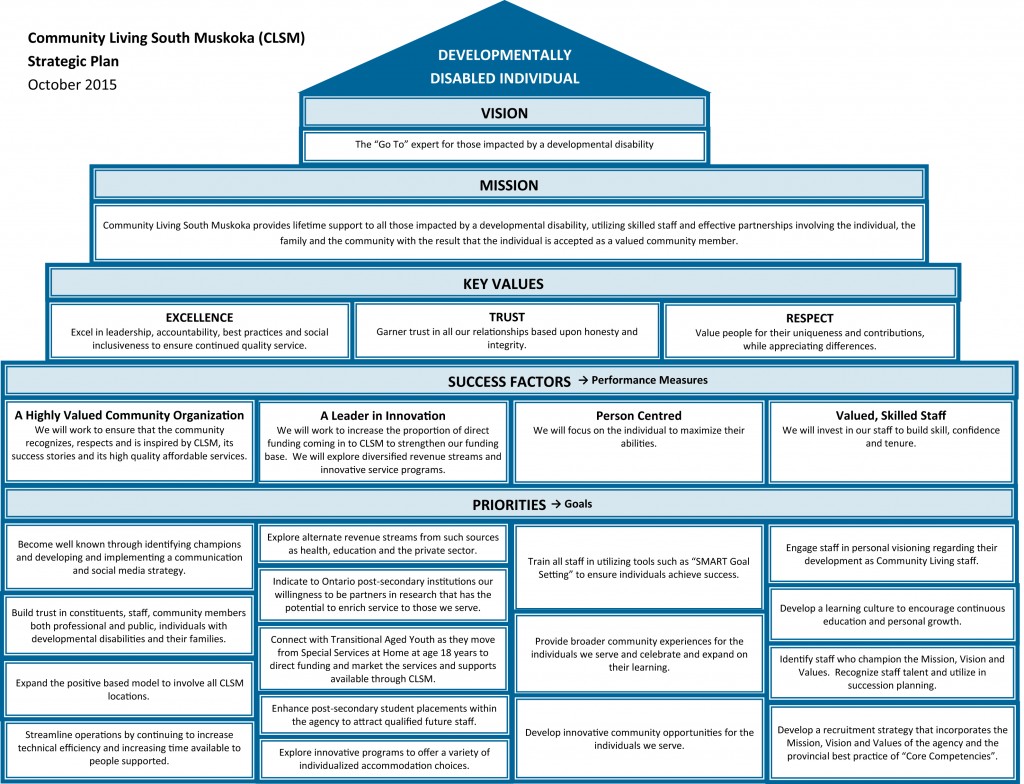 Morrison Meadows
In 2007 Community Living South Muskoka purchased a 35 acre farm on the outskirts of Bracebridge called Morrison Meadows.  We wanted to create employment opportunities for the individuals we serve, and become an outdoor recreational space for our community to enjoy and see individuals with a developmental disability as capable, friendly, teachers, partners and community leaders.
Morrison Meadows is intended to enrich the lives of Muskokans and visitors to the District by providing opportunities to enjoy farming, nature, and outdoor recreation activities.  To learn more visit the Morrison Meadows website or watch our YouTube video
About Community Living South Muskoka
Community Living South Muskoka is a registered charity that provides supports to individuals with developmental disability and their families commencing at the age of 2 through to their senior years. Services are offered in South Muskoka, from SevernBridge and Port Severn/Honey Harbour to the South and from Mactier to midway between Bracebridge and Huntsville in the North. Community Living South Muskoka is a member of OASIS (Ontario Agencies Supporting Individuals with Special Needs), a provincial organization representing 189 agencies that provide supports to individuals and families in the developmental sector.
Community Living South Muskoka is committed to enabling individuals to meet their personal goals and live and participate actively in the community. Working closely with our families and with the support of our funders, the Ministry of Community and Social Services, Ministry of Children & Youth Services, and the District Municipality of Muskoka, we have tailored supports and services to meet the individual needs of the people we support as well as taking into consideration the needs of their caregivers.
Vision
The "Go To" expert for those impacted by a developmental disability.
Mission
Community Living South Muskoka provides lifetime support to all those impacted by a developmental disability, utilizing skilled staff and effective partnerships involving the individual, the family and the community with the result that the individual is accepted as a valued community member.
Key Values
Excellence
Excel in leadership, accountability, best practices and social inclusiveness to ensure continued quality service.
Trust
Garner trust in all our relationships based upon honesty and integrity.
Respect
Value people for their uniqueness and contributions, while appreciating differences.
Success Factors
A Highly Valued Community Organization
We will work to ensure that the community recognizes, respects and is inspired by CLSM, its success stories and its high quality affordable services.
A Leader in Innovation
We will work to increase the proportion of direct funding coming in to CLSM to strengthen our funding base.  We will explore diversified revenue streams and innovative service programs.
Person Centred
We will focus on the individual to maximize their abilities.
Valued, Skilled Staff
We will invest in our staff to build skill, confidence and tenure.
Your privacy is important to us.  Please feel free to view our privacy policy below in pdf format.
Privacy Policy